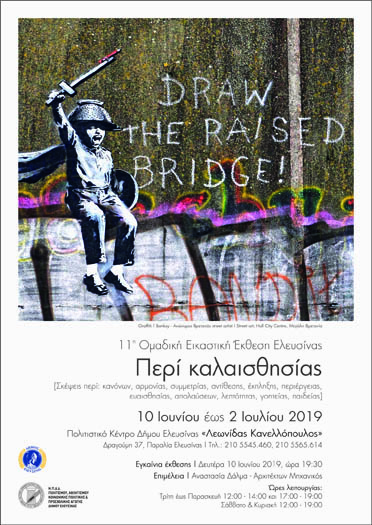 The N.P.D.D. P.A.K.P.P.A Municipality of Eleusina has the honor and pleasure of organizing the Eleventh Elementary Group Exhibition on the topic: "On Elegance | Reflections on: rules, harmony, symmetry, contrast, surprise,curiosity, sensuality, glamor, education".
Opening: Monday 10 June 2019, 19:30
Duration: June 10 - July 2, 2019
Exhibition area: Cultural Center of the Municipality of Eleusina "Leonidas Kanellopoulos", 37 Dragoumi, Eleusina Beach,
192 00
Working hours:
Tuesday - Friday | 12:00 - 14:00 and 17:00 - 21:00
Saturday - Sunday | 12:00 - 19:00

Organization - contact: N.P.D.D. P.A.K.P.P.A Municipality of Eleusina
Curator: Anastasia Dalma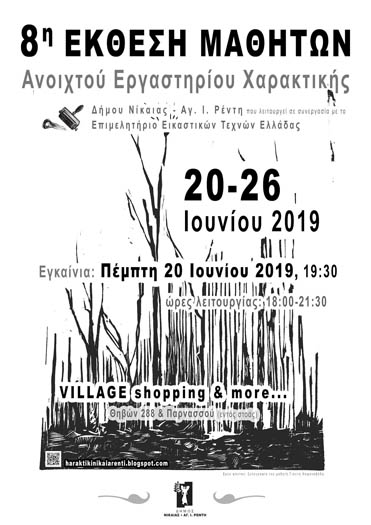 8th Student Exhibition of Open Engraving Workshop
The Cultural Directorate of the Municipality that belongs to the Open Engraving Workshop of the Municipality of Nikaia - Ag.I. Rendis, working in collaboration with the Chamber of Fine Arts of Greece, invites you to its 8th Student Exhibition.
Opening: Thursday 20 June 2019 at 19:30
Duration: 20-26 June 2019
Opening hours: 6-9:30 p.m.
Village Shopping and more
Thebes 288 & Parnassos
Curated by Evi Athanasiou